Lebanon Veterinarians Serving the Upper Valley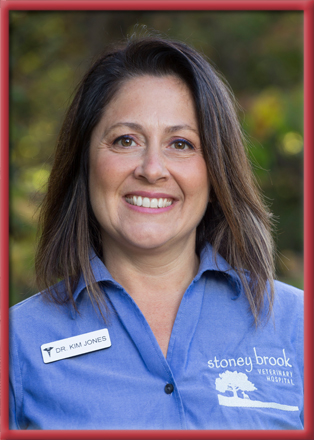 Kim Jones, DVM
Dr. Kim Jones fulfilled a lifelong dream when she opened Stoney Brook Veterinary Hospital in March 2009. Dr. Jones has practiced veterinary medicine in Colorado and New Hampshire. Her love of animals, both for companionship and with a functional purpose, influenced her pursuit of veterinary medicine. She finds working in general practice the ideal challenge; blending science, veterinary medicine, and working with people.
Dr. Jones attended the College of Notre Dame of Maryland and the State University of New York at Stoney Brook. She received her Bachelor's Degree in Biochemistry in 1994. Memorable childhood vacations in Colorado prompted her to move there after completing her undergraduate education. Dr. Jones had a three year interim in research at Colorado State University before entering veterinary school at the Colorado State University College of Veterinary Medicine and Biomedical Sciences. She was awarded her Doctorate of Veterinary Medicine in 2001 and graduated cum laude. Her professional interests include general surgery, chronic pain management, simplifying/managing complex medical cases, and client relations. Dr. Jones has furthered her education with additional courses in dental surgery, ultrasound, grief counseling, and practice management.
Dr. Jones currently lives in Meriden, New Hampshire with her husband Tom, and their two teenagers Elizabeth and Rhys. Their four legged family members include two Jack Russell terriers named Pickle and O.D.
A dog lover, Dr. Jones supports and enjoys all activities that involve dogs. One of her favorite things is to meet new dogs and their people and learn about their lives. Dr. Jones carves out time for hiking with her dogs and family. Other worthy obsessions include ice hockey, cooking, gardening, and Bikram yoga to stay as open minded and healthy as possible!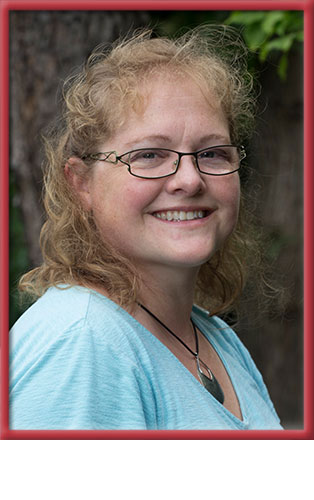 Meg Falcone, DVM
Dr. Meg Falcone is a general practitioner who joined the medical staff of Stoney Brook Veterinary Hospital in July of 2011.
Originally from Connecticut, her family relocated several times during her childhood, including a four-year stay in Tokyo. She graduated from high school in Hong Kong.
For her undergraduate studies, Dr. Falcone attended Cornell University where she graduated magna cum laude with a Bachelor of Science in Biology in 1995. As an undergraduate, she was involved in raptor rehabilitation and equine theriogenology and respiratory studies. In the Fall of 1995, she enrolled in Cornell University's College of Veterinary Medicine and received her Doctorate of Veterinary Medicine in 1999. Upon graduation, Dr. Falcone and her husband Dan relocated to the Upper Valley.
Dr. Falcone is a member of the American Veterinary Medical Association and NH Veterinary Medical Association. She enjoys the human-animal bond that is so visible in everyday interactions in her personal life and work.
Dr. Falcone and her husband Dan, a science teacher at Hanover High School, have five daughters. They raise Shetland sheep, chickens, and bees on their small farm. Indoor pets include 2 cats (Pingu and Chloe) and 4 dogs (Kipper, Louie, Rosie, and Milo). Milo was recently certified as a therapy dog through Pet Partners.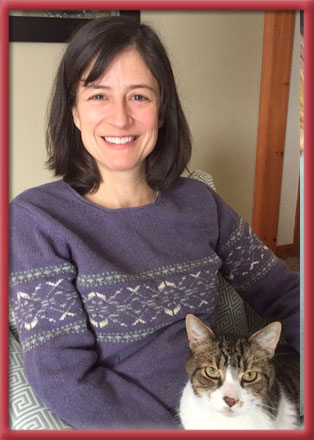 Rebecca Maurer, DVM
A native of New Orleans, LA, Dr. Maurer attended University of New Orleans and graduated with a Bachelor of Science in Biology in 1995. Following graduation she pursued a research career by continuing her studies at the Louisiana State University School of Veterinary Medicine in Microbiology and Immunology. During this time she obtained a master's degree in microbiology by completing research on Feline Bartonellossis. Following graduate school, Dr. Maurer joined the veterinary class of 1998. The recipient of numerous awards and honors, Dr. Maurer completed veterinary school and was awarded her Doctorate of Veterinary Medicine from Louisiana State University School of Veterinary Medicine in 2002.
Upon graduation, Dr. Maurer moved to Massachusetts where she worked as an associate veterinarian for six years. During that time she acquired training in ultrasound, as well as orthopedic and soft tissue surgery. She developed her skills and became invaluable to her clientele and their pets.
In November of 2008, Dr. Maurer took on more management roles and traveled to different hospitals in the New York area to assist in medical and surgical training of other veterinarians. After a year-and-a-half, Dr. Maurer returned to general practice working at a few hospitals in the Ithaca, NY area.
Dr. Maurer moved to New Hampshire in July 2012. After taking some time off to learn about the Upper Valley Area and its local practices she returned to veterinary medicine, bringing her specific interests in feline and internal medicine. After three years of practicing in the area, Dr. Maurer—with her reputation of excellent client patient care and communication skills—joined Stoney Brook Veterinary Hospital.
When not caring for other pets, Dr. Maurer tends to her own family. She has a son, Aiden, who was born in 2011; and two cats, Simba and Scooter. While Dr. Maurer spends much of her time with her animals and her family, she also has a number of varied interests which include yoga, running, movies and spicy food.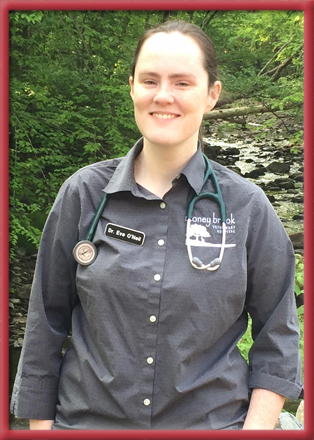 Eve O'Neil, DVM
Information coming soon!